KF Plastics Areas of Expertise
Since the 1960s we've been fabricating plastic, so we know the stuff inside and out. Our specialist plastic fabrication staff will:
Quickly understand what you want and deliver it – on time and on budget
Provide personalised advice on the plastic fabrication process – including design, material selection, production methods, logistics and delivery
Share their expertise to ensure your order is perfectly matched to your needs and budget
Pack and ship direct to your warehouse or to individual sites
Provide a reliable, flexible and consistent plastic fabrication service
We specialise in fast turnarounds and have no minimum order size. This means you'll get the same top-quality service, regardless of whether you need 5 items or 5000.
When we say we'll do something, we do it. Our reliability helps us exceed our clients' expectations
– ensuring they continue to turn to us for all their plastic fabrication needs.

KF Plastics Fabrication Services
Our years of plastic fabrication experience and state-of-the-art equipment mean we can create whatever you need – even the most unusual or intricate designs.
Our comprehensive plastic fabrication service can offer various types of plastic cutting, polishing, thermo-forming, bending and CNC machining of plastic materials.
We handle everything from prototypes and one-offs to full production runs, with substantial capacity to manage large orders as well as small ones.
We fabricate other materials like timber and can do the printing for all your point-of-sale needs.
Our expert, friendly staff are always happy to discuss your plastic fabrication requirements and we
can ship your order within Australia or internationally.
Our range of timber and plastics processing equipment includes:
Sliding Table Saws (x3)
Diamond Polisher
Industrial Ovens
Strip heater element bender
3 Axis CNC Router (x2)
CNC Laser Cutter
Call KF Plastics on (02) 9740 6000 to discuss your project specifications in detail.
Already have your design drawing? Submit it now to obtain a quote, Request a Quote.
Acrylic & Timber Processing
Electronic touch screen controller ensures a high level of accuracy when cutting.
Max Thickness 80mm.
Max Cut Length 3600mm.
CNC router with 12 x auto change cutting tools suited to cutting timber, acrylic, aluminum composite sheets etc.
To a max sheet size of 3000mm x 1550mm.
CNC Laser with ability to laser cut, engrave, and raster acrylic, timber and cardboard up to 30mm thick
To a max sheet size of 3000mm x 1500mm.
Gives the highest quality polish possible on straight pieces up to 2000mm long with an angle range of 0 Degrees to 60 Degrees.
Can heat material up to 2700mm x 1550mm for moulding such things as domes and cylinders.
Water cooled fabrication benders for heat bending acrylic, PETG, ABS, and HIPS.
To a maximum length of 3000mm.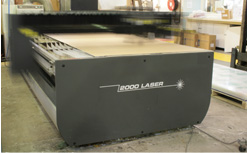 Fast turn around times
KF Plastics response times ensure your project looks great and is delivered on time.
Perfect for Events and Weddings
No matter the deadline we will do our best to deliver on time
Produce any Volume
Whether you need 1 items or 1000, you will receive the same consistent quality across your order.
Global Sourcing
We provide display solutions with both local and offshore manufacturing facilities.
There are NO minimum quantities.
Perfect for prototyping and students
Build Something Beautiful
The ability to charge you only what you use means gives you freedom.
State of the art Equipment
meaning we can delivery anything you imagine - We love a challenge
Cutting edge techniques
We are always improving upon our techniques and processes looking for new challenges to take on.
"We use and trust KF Plastics to deliver the correct, high quality product, on time. Their product and professionalism is a credit and it's a pleasure using KF Plastics as one of our key sub-contractors"
Fitzy & Wippa from Sydney's Nova 969 FM Radio station had a bit of fun behind the scenes with a raffle barrel made by KF. Thanks for testing out the durability boys!

Click here to see the boys having a bit of fun with the barrell.
"I recently contacted KF Plastics about cutting a pressure plate for my Kreepy Krauly pool cleaner. I understand from experience with another plastics fabricator that day a small job like mine is not considered profitable enough for some companies to bother with. I telephoned KF Plastics and it was a positive and thoroughly professional experience, the job was done rapidly without any fuss or problem. The staff are efficient, pleasant and HELPFUL – clearly the concept of customer service is understood at KF Plastics. Thank you."