Acrylic polishing
Edge Polishing provides a smooth, translucent to clear finish to plastic products of all sizes and specifications. There are several forms of edge polishing. We offer three different styles to suit the specific requirements of your project. KF Plastics have the capacity to produce both large and small volumes with prototypes available on request. All orders can be packed and shipped throughout Australia or worldwide.
Why Choose Us for Polishing
A number of our staff having been working with KF Plastics for over 25 Years. Only quality finishes will meet our high standards.
Our polishing machinery is well made and well engineered, built in Germany and Italy we only have the best for the best result every time.
Our product reflects our customers products so we must align ourselves accordingly.

Diamond Edge Polishing
Diamond edge polishing is the method of choice for achieving a perfectly smooth edge on straight or sloping surfaces.
Our german engineered and built milling machine has a finely balanced milling tool with a poly-crystalline pre-cutter and natural diamonds to produce a smooth, glossy finished surface.
Diamond Edge Polishing is suitable for acrylic materials up to 2100mm in length. We can handle large orders as well as small volume Diamond Edge Polishing projects.
Product applications include:
High-end retail

Luxury branding blocks

Corporate awards

Thick materials

Items that will be viewed up close
Flame Polishing
Flame Polishing involves heating the surface of a material which causes slight melting to create a smooth finish. It's particularly well-suited for edges that are difficult to access such as curved or tilted surfaces, holes or corners.
For items that are unsuitable for laser cutting, Flame Polishing can provide a similar finish.
Flame Polishing is fast, less expensive than Diamond Edge Polishing and gives a high-quality finish to all acrylic surfaces.  It is frequently used for prototypes and small batches.
Product applications include:
Small quantities

Prototypes

Areas that are difficult to access such as tight curves or corners

Items that will be viewed from a distance

When budgets are tight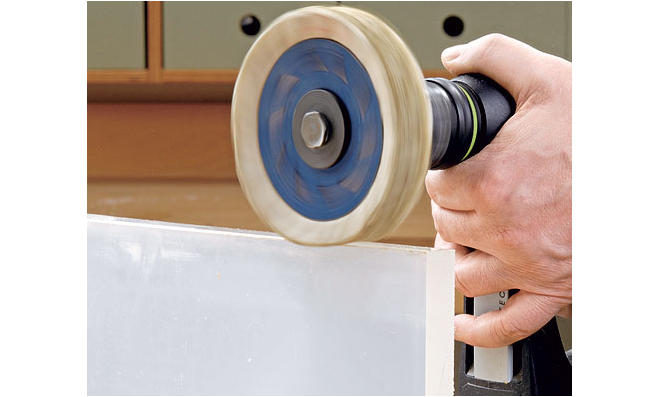 Manual Polishing
Along with mechanical forms of Edge Polishing, we also provide Manual Polishing services that use a rotating polishing disk or a polishing cloth embedded with a special polishing paste.
Due to the intensive use of labour, Manual Polishing is mainly used for prototypes, small batches or high-end, high cost parts. It is ideal for small items with curved edges that will be viewed up close, such as corporate awards.
Manual Polishing can also be used for removing minor scratches and other repairs.
Product applications include:
Larger items with easy to access surfaces

Sloping surfaces

Small volumes

High-end items

Corporate awards

Repairs and removal of minor scratches
Request a Quote
Call KF Plastics on (02) 9740 6000 to discuss your project specifications in detail.
Already have your design drawing? Submit it now to obtain a quote
Request a Quote