CNC LASER CUTTING
CNC Laser Cutting, works by directing the output of a high power laser through optics and mirrors. The laser optics and mirrors are used to direct the laser beam generated through the material below. This focused laser beam is directed at the material and the path is controlled by CNC, which then melts, burns and vaporizes away the material leaving an edge with a highly polished finished. Whether you need a one-off piece or large scale production, our CNC laser cutting service provides a precise, high-quality finish.  
We specialise in fast turnarounds and can pack and ship your laser cut items around Australia or worldwide. We also have the capacity to produce both large and small volumes.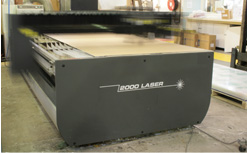 Equipment specifications
Our CNC Laser Cutter can cut, engrave, and raster materials up to 30mm thick with 0.5mm tolerances. Our maximum sheet size is 3000mm x 1500mm.
Materials suitable for CNC laser cutting
Acrylic / Perspex / Plexiglass

PETG

Interior Plywood

MDF

Timber

Paper & Cardboard

Screenboard
Polypropylene
Genuine leather
PVC free leather
textiles
bamboo
felt
cork
For more information on our materials we stock please see our materials page.
Product applications
Signage and components such as letters or logos

2D/3D acrylic lettering

Brochure holders

Stock holders

Cosmetic displays

Point of sale displays

Retail displays

Componentry for larger products or applications

Architectural features

Office and/or retail interiors

Lighting applications

Feature panels
Prototypes are available on request.
Call KF Plastics on (02) 9740 6000 to discuss your project specifications in detail.
Already have your design drawing? Submit it now to request a quote.